The Two Chinatowns

---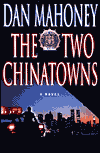 Read the first few chapters now!
(This will make your browser open a new window)

From The Jacket:

Cisco Sanchez is the self-proclaimed "best detective in New York"—better even than Brian McKenna, whom Cisco considers the luckiest detective. Like McKenna, Cisco solves cases while occasionally driving his NYPD bosses crazy. Then he meets his match in Sue Hsu, an airline stewardess who caught Cisco's eye after providing civilian assistance in a murder investigation. To everyone's amazement, the two get engaged and plan to marry

But while celebrating their future over dinner in Toronto's Chinatown, Sue is murdered by members of the street gang Born To Kill. Cisco vows to avenge her death and throws himelf into the case of his life. Pursuing one of the killers, he begins to uncover the dangerous underworld of gangs in the two Chinatowns of Toronto and New York. A history emerges of kidnapping, extortion, drug smuggling, contract killing, and the transport of human cargo between China and North America—a criminal network more powerful than the Mafia and virtually unknown to all but the silent businessmen and frightened workers in Asian communities.

Following a trail that leads from Toronto to New York and finally to Singapore and Hong Kong, Cisco relentlessly closes in on the man ultimately responsible not only for his fiancée's death, but the fates of thousands of others. Drawing on inside knowledge from NTPD and FBI sources, The Two Chinatowns offers terrific suspense, unparalleled investigative detail, and a look into the most secretive criminal organization in the world.

Reviews:

Booklist
Cisco Sanchez, who considers himself the best detective in the NYPD, is in Toronto for an interdepartmental boxing tournament. He's smart and tough, but that isn't enough to prevent tragedy when his lover, Sue Hsu, is murdered by members of a street gang as the couple dines in a Chinese restaurant. Sanchez kills the two men directly responsible, but he wants revenge on the gang leader who ordered the hit, to which he and Hsu were innocent bystanders. Despite his personal stake in the case, Sanchex becomes a key member in a joint Toronto-New York strike force charged with dismantling the two key gangs involved in trafficking illegal aliens. One by one, Sanchez and his crew arrest the street soldiers until eventually they find someone willing to turn on the well-protected superiors. Mahoney, who retired after 25 years on the NYPD, knows the nuts and bolts of a multijurisdictional police operation. He is able to protray complex, believeable characters struggling mightily with their own muddled lives. Fans of William Caunitz, Robert Daley, and Ed McBain will savor this top-drawer procedural.

-Wes Lukowsky
Publishers Weekly

A complex plot is no deterrent to enjoyment of Mahoney's ambitious thriller, in which a Cuban-American NYPD detective takes on a powerful 300-year-old Chinese crime association, or triad, whose tentacles reach all over the world. On a visit to Toronto, Det. Cisco Sanchez takes his new fiancée, Sue Hsu, to her uncle's restaurant, where she stumbles into a gang kidnapping of a kitchen worker and is killed. Executing swift justice, Sanchez holds off the local cops. Bailed out by his partner, well-connected series regular Brian McKenna (Black and White) and their boss, Sanchez and his fellow NYPDers join forces with a Chinese investigator in Toronto. They soon discover that the Chinese gang responsible for the killing has been hired by the triad to "collect" big money payments from illegal Chinese aliens smuggled into New York and Toronto. Launching an attack in both cities, their investigation sends out shock waves far and wide as bodies pile up and the husband and wife triad enforcement team known as Boris and Natasha are captured in Toronto. The couple turn informer to protect their family, but the cops don't count on meeting up with Murray Don't Worry-a real-life New York City lawyer who almost steals the book. Murray plays the cops like a Stradivarius while matchmaking between his secretary/niece and Sanchez. When the team finally targets Johnny Eng, the dragon head of the triad (and another Murray client) the action really picks up. McKenna takes a back seat in this outing as Sanchez runs the show, with a little help from his friends. Mahoney's characters are always solid, and this tale is almost a primer on Chinese community dynamics. He pulls no punches and speeds to a perfect ending.
Kirkus Reviews

A shift to the wings for Det. First Grade Brian McKenna, leaving center stage to Det. First Grade Cisco Sanchez as Mahoney's authoritative NYPD series gains a so-so fifth (Black and White, 1999, etc.). The self-styled "best detective in the world," Cisco, who on occasion is pleased to refer to himself in the heroic third person, clearly doesn't hesitate to put his best foot forward. Among other useful attributes, he claims unmatched determination-though some of his superiors downgrade that quality to rampant bull-headedness-plus the kind of combustibility that's calculated and unnerving, sometimes even to his friends. So when 14K, a notorious and far-flung 300-year-old band of Asian racketeers, kills the love of Cisco's life, it figures to turn into a major bad-guy mistake. Never mind that Johnny Eng, 14K's head dragon, is too smart to have deliberately awakened the sleeping dragon in Cisco. The point, for Cisco, is that Sue Hsu died violently at the hands of an Eng henchman, and that puts Johnny squarely on the spot. Working closely with his best friend McKenna and a team of dedicated detectives based in Toronto, Singapore, and Hong Kong, Cisco goes after the infamous gangster and his seemingly invincible triad. Methodically, Dragon Johnny is stripped of top-notch aides as Cisco and Co. jail a string of them for lengthy terms. But it's only when they catch world-class hit-man King Kong Chen and force him to cough up closely held triadic trade secrets that 14K's glitter pales to a flicker. Finally, Johnny and Cisco confront each other mano a mano, but by then, in a denouement drained of suspense, it's super cop vs. toothless dragon and strictly no contest. Static characters,pedestrian prose. Mahoney, a former NYPD captain, is, as always, at his best with the police procedural stuff, at his weakest with the novelizing.
Feature Article, New York Times, 7/25/01
"Bringing the Real Police to a Police Procedural"

If the blurbs and cover copy for Dan Mahoney's new book are any indication, what used to be called a detective story is now a procedural. Procedural-it sounds like something that might happen to you in your dentist's office rather than in your book club, but never mind. If ever there was a book where the term applied, it would be Mr. Mahoney's new novel, "The Two Chinatowns," which is as procedural as you can get without writing a case study for the police academy.
"The Two Chinatowns" in this sense is a businesslike detective story, but that does not detract from its power to hold the readers attention. Mr. Mahoney, whose previous books include "Black and White" and "Edge of the City," gives us a cast of detectives with fewer of those hard-boiled, pungent, working-stiff qualities, cops with personality problems, than you would find in the station houses of, say, Ed McBain or Joseph Wambaugh. "The Two Chinatowns" has clearly been written by an author with real procedural experience: Mr. Mahoney is a retired captain in the New York City Police Department with a quarter-century of service. In addition, it provides a persuasive if somewhat book-learned portrait of an exotic criminal underworld lately making itself felt in North America, the world of international Chinese criminal gangs.
The main such gang is Fourteen K, a Hong Kong based outfit that specializes in smuggling illegal immigrants from China's Fujian Province into North America. Mr. Mahoney starts off with a demonstration of the cruelties of which Fourteen K bad guys and their allies are capable, as he follows a team of enforcers from a Chinese-Vietnamese group called Born to Kill. This group of swaggering and vicious thugs does the dirty work for Fourteen K in collecting the fees the illegal immigrants have to pay the smugglers who got them to North America. But unhappily for Born to Kill, they choose to terrorize a restaurant in Toronto's Chinatown just as Mr. Mahoney's hero, a New York homicide detective named Cisco Sanchez, happens to be there for dinner with his Chinese-Canadian fiancée.
Cisco is a modern superslueth. You expect him to say "Elementary, my dear Watson" as he explains his findings to his less cerebrally endowed colleagues, though we first meet him when he is knocking out his opponent in a United States-Canada police boxing tournament, so he has some brawn too. He is also inclined to declare himself the world's greatest detective, but by midway through Mr. Mahoney's novel, as he figures out what the dastardly Fourteen K is up to and how to bring it down, we begin to believe he might be right.
Cisco does his work as if he is playing chess, thinking several moves ahead. A couple of gangsters are caught in Toronto and the police note that their cell phones show recent calls to a Hong Kong cell phone number. Inquiries reveal that the number belongs to a Fourteen K kingpin who has just been murdered on suspicion of being a police informant. Why would the two suspects have called the number of a dead man? Cisco, thinking quickly as always, figures they are the Hong Kong hit men themselves on special Canadian assignment. They took their victim's cell phone and gave it to their boss, so they could keep in touch with him without leaving a record or their calls to him.
Pretty clever, no?
The boss in question is one Johnny Eng, the head of Fourteen K in Hong Kong and a man who does not hesitate to have men, women, and children slaughtered if that is needed to cover his tracks. Eng is so detestable that his own henchmen and even his own lawyer have their doubts about him, which adds a certain richness to Mr. Mahoney's story but also, in this instance, a touch of implausibility. It makes catching the villain not exactly easy but less difficult than one might imagine in real life.
The lawyer here is Mr. Mahoney's most entertaining character, a criminal-courts ambulance-chaser named Murray Plenheim, aka Murray Don't Worry, who matches Cisco in quickness of mind, though he exceeds him in unscrupulousness.
I'm disappointed in you," Murray tells Cisco at one point. He has just hinted to Cisco that a crime will be committed, and Cisco complains that the hint isn't clear.
"I thought you'd rise to the challenge," Murray says.
"Challenge?"
"You know, take what I've given you and figure it out on your own."
Cisco does figure it out. Johnny Eng, to protect himself, has ordered that an entire shipment of illegal aliens, 80 to 100 Chinese workers and Thai prostitutes, be murdered at sea. Finding them and preventing the crime then becomes a matter of procedure rather than high-seas adventure, duly explained in this book.
There is one small mistake to mar Mr. Mahoney's smoothly knowledgeable presentation. Murray gives Cisco an important clue: that the same Chinese surname commonly has different English spellings, depending on the Chinese dialect being transliterated. Therefore, he is told, the Cantonese name Eng would be Ng in Mandarin, so the man named Eng and the man named Ng could be one and the same. The idea of the same name in different dialects is sound, but both Eng and Ng would seem to be the same Cantonese name. The equivalent in Mandarin would be Wu.
But that's a small point, discernible to the book critic who happens to know a little Chinese (and to about one billion Chinese.) "The Two Chinatowns" isn't into heavy suspense, but in real-life police procedure there probably isn't that much suspense, and the main virtue of Mr. Mahoney's fine detective story is the strength of the illusion it sustains that things could have happened almost the way they happen in this book.

---