Justice

---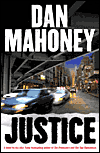 Justice is the eighth book from Dan Mahoney.
From the Jacket:
New York City. A wealthy businessman meets a violent fate in his elegant, carefully secured home in Queens. Two drug dealers are murdered in a Brooklyn no-tell motel room. Several men are found riddled with bullets and nails on a little-traveled road beneath the FDR Drive. And soon thereafter, a church, a synagogue, and a mosque find bags of cash waiting at their doorsteps—all from a vigilante who calls himself "Justice."
NYPD Detective First Grade Brian McKenna and his partner, Cisco Sanchez (the self-described world's greatest detective), are assigned to find the elusive killer all of New York City is rooting for, a man of supreme technical skills, physical power, and intelligence, who seems to know every move the police will make before they make it. Justice is executing drug dealers, helping the police close unsolved cases, providing those in need with stolen drug money, and creating a nightmare for the police commissioner, the mayor, and the two detectives.
As McKenna and Sanchez try to outsmart the vigilante and discover his next victim, they also must find out who is helping justice in his quest for revenge.
Justice showcases fascinating investigative detail, wild action, and Dan Mahoney's trademark humor in a terrific police thriller.
Kirkus Reviews:
The eighth, and funniest police procedural from the retired NYPD captain (The Protectors, 2002, etc.)

Mahoney is something of an acquired taste. Instead of edgy action and intense explorations of a gritty urban landscape, he's more likely to have his series' heroes, worldly-wise NYPD Detective Brian McKenna and his egotistical but extremely competent partner Cisco Sanchez, chow down with their cronies in atmospheric New York bars and restaurants where meandering conversations take the place of clue gathering. This said, Mahoney's strength is his vision of the NYPD and the city surrounding it as a maze of delicate, intimately personal relationships that are variously sordid, silly, craven, and sometimes so righteous that you want to stand up and cheer. "Justice" here is the ironic pseudonym of a vigilante who is murdering the city's drug dealers in brutally humiliating ways (one pair of corpses is left in the ludicrous embrace of a set of life-sized sex dolls. Justice not only sends sarcastic accounts of his killings to a New York Post reporter, he provides clues for the NYPD to help clear other drug cases and makes the crooks' ill-gotten millions appear in artfully arranged stacks of cash at a church, a synagogue, a cathedral, and a mosque. Though just about everyone agrees that the vigilante does more good than harm, Justice is still a murderer who sometimes tortures his victims to get information about their evil doings. It falls to McKenna and Sanchez, who suspect the vigilante might be one of their own, to bring Justice to justice. To make things even more complicated, McKenna discovers that Justice is trying to assist them in locating a crooked cop who helped a millionaire Colombian crime boss take over drug distribution up and down the East Coast. In this winning but far too convoluted tale, McKenna and Sanchez call in favors, jump through hoops, tell while lies, and eat very well to bring a politically acceptable solution to a problem that nobody wants to solve.

A career peak.
Publishers Weekly (Starred Review):
Ex-cop Mahoney's eighth masterful police procedural (after The Protectors) again brings together New York's most famous sleuth, the brilliant but unassuming Det. Brian McKenna, and his infamous sidekick, gifted but boorish Cisco Sanchez, who doesn't always play by the rules. Called back from their Florida vacation to investigate the assassination of a Colombian druglord and two of his legmen, McKenna and Sanchez arrive just in time to learn that the vigilante killer—signing himself "Justice"—is sending letters to a reporter that reveal hidden drug caches and plans to execute other drug dealers. Suspecting Justice may be a former cop, McKenna and Sanchez strike a deal with the reporter agreeing to provide him with inside information about the case if he will keep them informed about the contents of Justice's letters. The executions continue and the case takes on a political dimension as the public sides with the vigilante for intervening where the law has been powerless. This hero worship is heightened when the vigilante gives millions of dollars in laundered drug money to religious orders. Suspecting his smug, egotistical partner may know more about the killer's identity than he is willing to share, McKenna is torn in his loyalties and increasingly frustrated. When the vigilante's identity is finally unveiled, a fast-moving series of shootouts and heart-wrenching decisions make for a spectacular climax. Mahoney is a genius at transforming the details of the workaday police grind into a spellbinding thriller, and he is in top form here. His characters are fully human, their moral quandaries wrenching.
Feel free to read a few chapters. As usual, clicking the link will cause your browser to open a new window.
---